The TOTEM, certified quality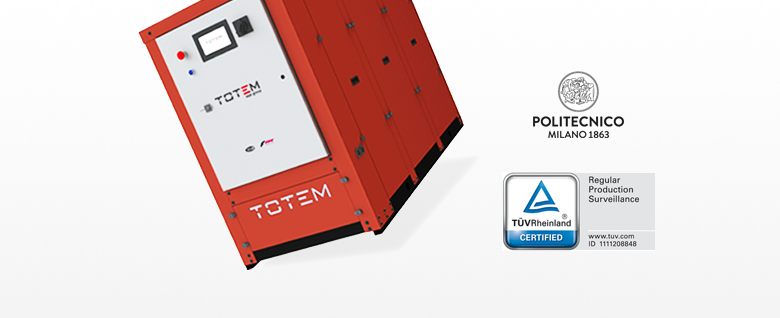 The TOTEM is the first micro-cogenerator in Europe to receive a certification from an accredited entity. In line with its commitment to transparency and high quality, TOTEM ENERGY begun in 2015 a long certification process to finally obtain this year the certification of technical compliance by TÜV Rheinland, one of the leading international certification bodies.
The process of performance appraisal was carried out by Gecos labs of Politecnico di Milano. It included heat capacity, combustion and temperature limits tests and yield reporting. In order to take into account the variation in the composition of natural gas used in target markets, during the tests the TOTEM was fueled with different typologies of methane gas.
The tests verified the TOTEM's compliance with the technical standards implementing the EU regulatory framework for cogeneration:
EN 50465:2015 "European product standard for combined heating power systems using gas fuel", (directives 2009/142/EC and 92/42/EEC);
IEC 6100-6-2 and IEC 6100-6-3 (directive 2014-30-EC);
ETSI EN 301 511 and ETSI EN 300 328 (directive 2014/53/EU);
EN 12601, EN 60204-1 and EN 13849 (directive 2006/42/EC);
compliance regulation sorrounding the connection of a generator to the electrical utility grid: Italy (CEI 0-16 and CEI 0-21), Germany (VDE 4105), United Kingdom (G 59).
Please click here to find out more.