Germany welcomes TOTEM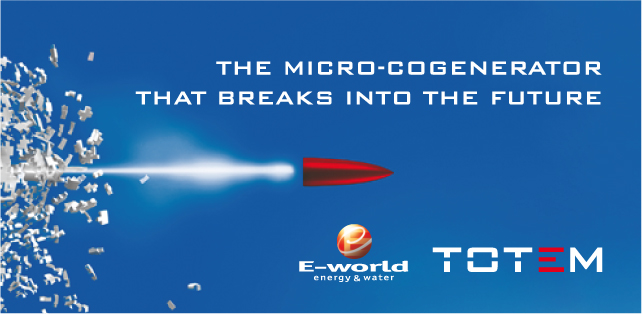 asjaGen (nowadays TOTEM ENERGY) will be among the exhibitors at the International Fair "E-world – Energy & water" taking place in Essen, Germany on February 10th  to 12th , 2015.
This event focused on energy efficiency, water, Smart Energy and renewable technologies, has gathered in the last year over 23,500 visitors from 70 countries and it is certainly a significant opportunity for industries players to have an inside discussion and communication.
asjaGen (from the 21st of September 2015 on, TOTEM ENERGY) therefore chose to participate in this fair for the first time exposing in another European country itsMicrocogenerator TOTEM.
Excellence of Italian origin, thanks to Fiat Chrysler Automobiles technology (FCA), FPT Industrial and Magneti Marelli, a compact design, noiselessness, low fuel consumption, very low operating costs and maintenance allow this machine to ensure an efficiency greater than 95% in all its sizes and an extremely low payback time.
With a view to strengthen the company in the German market, absolutely open and ready for this type of technology, asjaGen is sure that this event will be a crucial opportunity to raise awareness of the TOTEM potential, features and advantages that makes it very competitive with similar products currently marketed in Germany.
To learn more, please visit our booth at the "E-world – Energy & water" [Hall 2, Booth 2-119].